When putting someone on hold is your only option…
What are your options?
Elevator Music

Silence

The radio

A striking message specific to your company branding
Forget the mind-numbing banality of most on hold messages. Offer your valued customers a captivating message that will interest and engage them – and, most importantly, keep them on the line!
"Research shows that 88% of callers prefer to listen to messages while waiting on hold than other options, and 16% of callers will respond to the on-hold information they hear. Advertising on hold is your most cost effective way of finding new clients."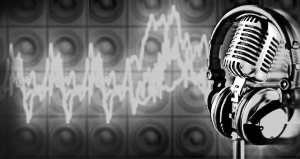 Sample Messages on Hold
[click ▲ to play]
▲ Across Floors and More
▲ Big Hammer Building Supplies
▲ Dynolink Automotive Excellence
▲ RWV Conversions
▲ Smithfield Law
▲ Harts Family Funerals
▲ Novotel Oasis Resort Cairns
▲ Mackay Fencing
▲ Medical Dental Solutions
▲ Sarina Motor Inn
▲ Trinity Smash Repairs
Placing a Client on Hold provides the perfect opportunity to:
Enhance your business image
On hold messages are the first point of contact for many of your customers, so maximise this opportunity by offering an on hold message that creates an overall impression of professionalism, great customer service, and product quality. On hold messages that aren't engaging are more likely to cause customers to hang up instead of listening – so keep them on the line with an hold message that captures their attention.
Promote new products and services
Keep customers up-to-date with your business' new products and services in your on hold message. This opens up new advertising avenues to promote products and services directly to your customers, keeping your customers informed about the latest developments in your business.
Decrease customer hang-ups
You've worked hard to get your customers to engage with you and your business – so don't lose them at the first stage of connection. Engage and keep them on the line with information that is relevant, such as amazing product and service descriptions, and creative messages that captivate customers' imagination – this will help to decrease the possibility of a hang-up.
Improve customer engagement with your business
Improve customer engagement by making the on hold message all about them, such as sharing ways they can connect with your company e.g. social media and newsletters – and the benefits of doing so e.g. discounts and referral programs. By promoting engagement with your customers you encourage loyalty, which is likely to generate into sales, repeat business, and referrals.
On hold messages is a smart way to sell a product or service directly to your customers by using it to showcase key products and services that they are likely to be interested in. Without using any pushy sales jargon, you can boost your sales by introducing your customers to these products and services in a creative and captivating way.
---
Advantages
Don't lock yourself into a long term contract that leaves you feeling trapped, we only require you to commit to us for the first six months. No pressure, no catches, no bull.
Our low establishment fees equal three months rental – and you get with it high quality service and products. What a deal!
Regular updates and reminders.
We excel at client service and open communication, and make regular contact to remind you of relevant updates as part of your plan, and other necessary information. Meaning you never have to waste time chasing us up on anything.
No need to be technologically savvy.
Easy, reliable, and flexible. All our updates are through computer-based software that is user-friendly so you don't have to waste time on complex technological procedures.
If you ever experience problems with your on hold messages or related computer software our technical support team is here to help. Only a quick phone call away, we will be able to guide you through any problem you are experiencing. We work hard to remove obstacles for our clients – helping to keep you happy.
If a phone call to our technical support team won't help fix the problem you have with your on hold message and related computer software then our technical team is able to do the "hands on" works required to get it fixed fast.
Access to the best in voice talent and creative writers.
Save time, energy and money in finding voice talent and creative writers when we the best available. All the hard work is done in screening them and confirming their professionalism and high level of production. If you are looking for the best at an affordable price – then we have them right here!
---
Consider
You will be the first who knows when the system shuts down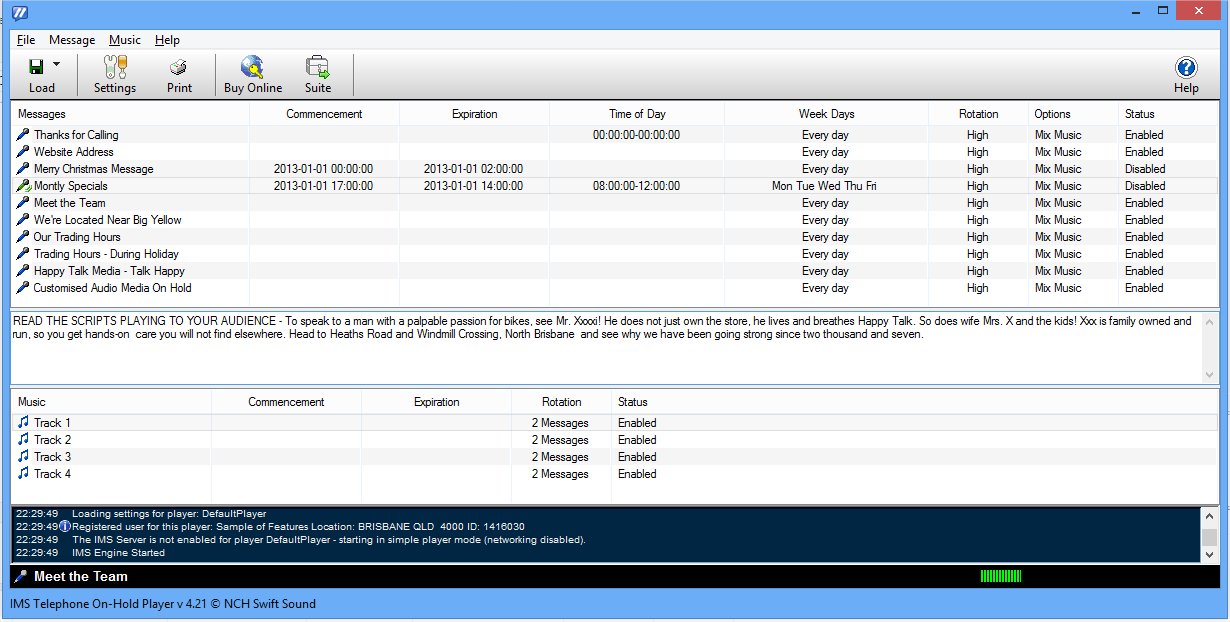 With the HTM System you can set the time and date of your messages or music.
Messages average 15-25 seconds in duration, with a 6-10 second gap. This means the customer is not bombarded with too much information in a short period of time so they "switch off" from your message. Instead, the message is designed to keep them on the line and listening.
Music changes with every second message, keeping your on hold messages fresh and updated.
---
Computer Requirements
A computer that is on during office hours
This makes it easier for us to email important information to you and your computer during business hours.
A computer that has reliable internet access
Reliable internet connection for your computer means you can receive important emails from us, including computer software updates, in a timely manner.
Has its own email address
To ensure our software is user-friendly we require the computer has its own email address. When we email software updates, all you will need to do is click on the link in the email and the htm software takes care of the rest.